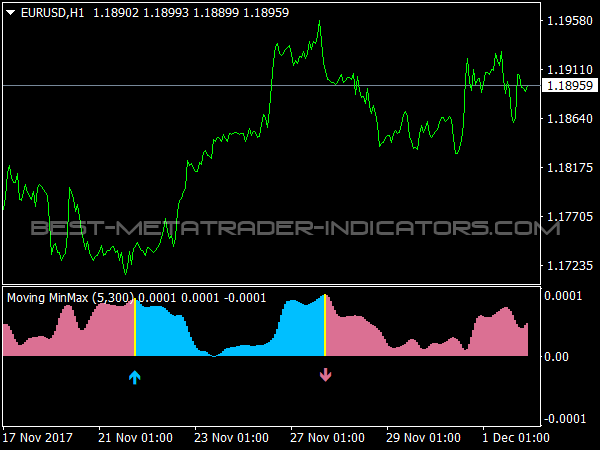 If this indicator is broken, please contact us and we will fix it in a flash.
Best-MetaTrader-Indicators.com
Average rating:
4 reviews
Jan 19, 2021
My name is Samuel from Nigeria. It has been almost a decade since Zurab Silagadze, with the help of V. Yu. Koleda, came up with the very helpful Moving Mini-Max Trend/Price-action Indicator. I am confident that myriad of traders from Forex, to Synthetic Indices and Stock Options and Indices, have been very profitable partly from the functionalities of this highly useful indicator. on behalf of many I wish to express gratitude.
However, speaking with Dr. Zurab Silagadze via e-mail concerning an enquiry about how to improve the functionalities of the indicator, he informed me that he was not part of the implementation (programming) and that I should reach out to you people. Therefore, here's the enquiry I wish to make:
I wish to ask, how can an alert (mobile/email) be incorporated to the indicator so as to be able to enter into a position once the trend changes or is about to (as depicted by the downward or upward arrows in betwixt the indicator bars) without having to expend too much time glued to the screen in expectation most of the time? I believe I am probably not the only one who's made such a request as this. Please I would be expectant of your soonest response.
Thank you,
Samuel.
Dear Samuel, this is a very simple indicator, unfortunately we don't have time have time to improve or add something. We are currently developing robots for our best systems: https://www.best-metatrader-indicators.com/trading-system/
Mar 30, 2018
perfect indicator