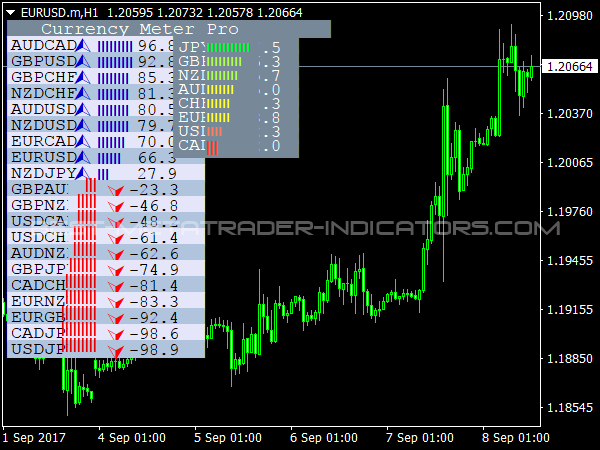 Best Trading Indicators for Beginners ⏩
Best-MetaTrader-Indicators.com
Average rating:
12 reviews
May 24, 2022
Hello, how can I install it on Metatrader 4? "Copy your templates (.tpl files) into MQL4/templates folder", where I can see this?
May 4, 2021
I have installed this on my MT4 account. But it alert about some currency pairs are not available for calculating.
Mar 17, 2021
Very good currency meter indicator.
Jan 5, 2021
I have installed this Currency Meter Indicator on MT4. The display appears in the upper right corner of the screen, but the currency display overlaps and I cannot see it. In addition, an alert was displayed. Some currency pairs are not available for calculating the indices: NZDCAD, NZDCHF, GBPNZD, GBPCAD, GBPAUD. Calculation formula will be changed. Please tell me how to display the currency display without overlapping.
Thank you.
Dear Sakakibara, please check this version: https://www.best-metatrader-indicators.com/mt4-titan-pro-dashboard-indicator/
Dec 13, 2020
Great indicator
Oct 31, 2020
I really like this indicator and I am doing some tests with it.
I would like to know if it is possible to put an alert when a pair goes > 95% and -95%.
Thanks a lot.
Jul 28, 2020
Someone kindly help me. This currency meter pro shows only the major 7 pairs. Some of the currency pairs are not available error happens whenever i insert the indicator to chart. I need entire pairs. Help me.
Mar 31, 2020
very good indicator work nice but killing cpu.
Feb 12, 2020
Wie wird der Währunsmesser richtig eingesetzt. Zeige Beispiele.
Oct 27, 2019
I could not locate the "currency meter indicator" in the MT4 interface after dragging it to the indicator folder. I noticed i only have two files in the dowloaded zip file, but your example has three files, pls help.
May 2, 2019
GREAT
GOOD WORK THANKS
Mar 28, 2019
Good but freezes the MT$
This indicator is good as i expected, but keeps freezing my MT$.
Also when you set the currency to sort itself, it keeps bring back the currency pairs you disable from appearing.