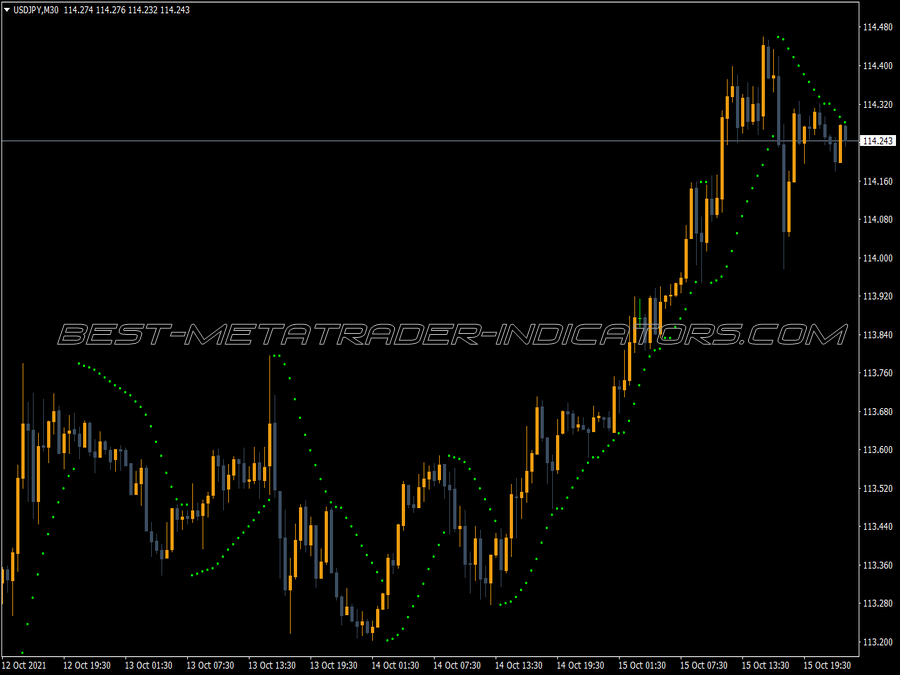 Best Trading Indicators for Beginners ⏩
Average rating:
2 reviews
May 4, 2021
This is my variation of the traditional Parabolic SAR trading system. Instead of simply using the Parabolic SAR signals as entry and exit, I use a filter that filters many of the whipsaw signal and thus increasing the win rate and enhances the quality of the trades.

Indicators: Parabolic SAR (0.02, 0.2), Average True Range (50).

Entry: when Parabolic SAR switches from Long to Short – place buy stop order at the Close of the bar + 50% of ATR. When Parabolic SAR switches from Short to Long – place sell stop order at the Close of the bar – 50% of ATR. In more volatile pairs you might need to use 70% ATR or even 100%.

The problem with the simple Parabolic SAR signals is that they are sometimes lagging, and that a range-trend filter is not present. By using the ATR stop order, we ensure that the trend is strong enough and therefore do not waste efforts joining trends in ranging periods.

Exit: when Parabolic SAR signals the opposite signal, close all pending orders and trades.
Sep 29, 2020
Hallo,
ich habe für mich ein Handelssystem gefunden und benötige hierfür für den Metatrader 4 für den Parabolic-SAR-Indikator und dem DMI-Indikator jeweils eine Alarmfunktion, welche mich bei Kreuzung bzw. Veränderung der Linien auf dem Handy per Push-Notification informiert. Haben Sie sowas im Angebot?
Danke im Voraus und einen erfolgreichen Tag 🙂
Mit freundlichen Grüßen,
Peter