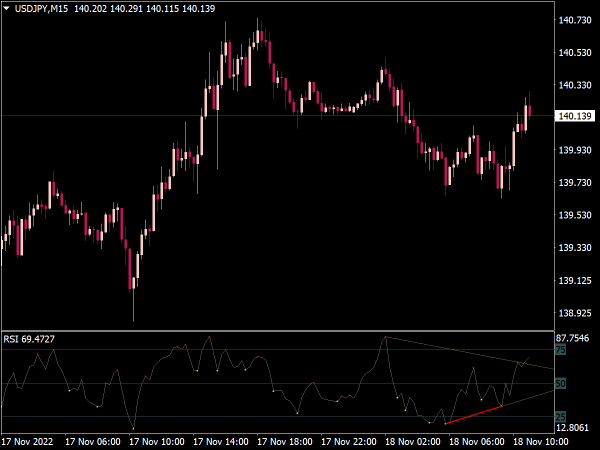 🛠️ If this indicator is broken, please contact us and we will fix it in a flash.
Get Our TOP Indicators Now and Start Profiting ↗️
Best-MetaTrader-Indicators.com
Average rating:
7 reviews
May 31, 2022
Very good indi 🤩
May 26, 2022
Thank you, indicator is good.
Oct 6, 2021
Hello, thank you for this one, can I have it for MT5 platform? I am trying to fit this one on my MT5 platform but it's not showing in my indicators list so I am skeptical, may be it's of MT4. Thank you again, looking forward for your response.
Aug 28, 2021
Very good indicator, it also show price channel, very usefull.
Jul 6, 2021
Hello, I just downloaded the RSI Divergence Indicator and I want to believe it is just what I am looking for. However, there are just so many inputs, most of which I cant understand. Could you kindly share a manual that could explain the inputs?
thank you!
Warm regards,
Toliva
May 13, 2021
Very good RSI indicator
May 12, 2021
The Relative Strength Index (RSI) is a very popular technical indicator used by many traders, both in Forex and other markets. However, many fail to harness the full potential of this powerful indicator. Here is a simple strategy that improves the quality of the RSI signals. This strategy is featured in Thomas DeMark's great book, the Science of Technical Analysis.

RSI Standard Trading Method
When it comes to trading the Relative Strength Index, the most popular trading method is the over-boughtover-sold method. The basis of the method is a cross of RSI of the 30 and 70 levels, with 30 being the oversold and 70 the overbought. However, most traders treat all crosses the same, ignoring the visual appearance of the cross. However, with little attention to the visual one can highly increase his win-rate.

"Instant Bounce" Signals
The Relative Strength Index is mainly a reversal indicator – meant to catch market bottoms and tops. In order to improve trading signals from the RSI, one needs to demand that price does not simply cross the overbought-oversold level – but bounce off the levels, without actually crossing them. When RSI touches one of the levels and instantly bounce, the trading signal is much stronger and results in higher win rate.

Conclusion
The "Instant-Bounce" method of trading the RSI leads to stronger trading signals with higher win probability and bigger profits. Feel free to post your own charts with the bounce signal, or ask any questions if the issue is not clear.