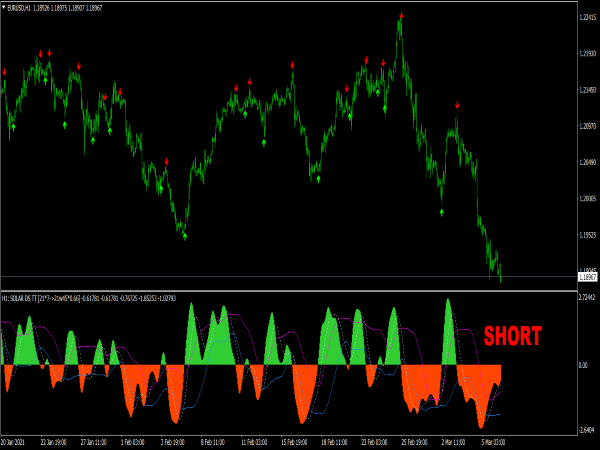 🛠️ If this indicator is broken, please contact us and we will fix it in a flash.
Get Our TOP Indicators Now and Start Profiting ↗️
Best-MetaTrader-Indicators.com
Average rating:
7 reviews
Mar 20, 2023
Best MT4 Indicator!!! I'm glad I found it. Thanks a lot!!!
Nov 29, 2022
The arrow is marked 3 or 4 candles behind from when alert actually comes out.
Oct 7, 2021
I am a professional trader which scalps and develops strategy on all time frames. I do not use not even a moving average. I have back tested 1000s of indicatiors and probably all here on best-metatrader-indicators.com, most indicators use time periods on moving average calculations to generate signals therefore leading to many losses or false signals.
A moving average is only to determine directions and not price. This is the only indicator that I have ever posted a review, I highly recommend this indicator and give it 10 stars, its calculation are based on price accumulation and that all is what trading is, its price that simple. If anyone is interested in a free strategy free of charge, you are welcome to email me *********@gmail.com.
I will be happy to share it. Remember no indicator can generate a perfect exit however you need to exit where the current momentum is no longer making highier highs or lower lows. In order to cut the short pricing out and aim for the big ones, you may add fxcogmaster indicator set on 100 / 5 / 2, this will outline and guide you when there is no highier or no lower pricing...



Jul 17, 2021
Did u guys test this out on strategy tester??? It repaints, LOL.
May 2, 2021
This indicator filters a lot noise and works well especially when combined with trendlines.
Apr 16, 2021
Kindly help me to fix the problem as I use Solar Wind indicator for entry and exit, can you build the entry and exit for an EA? Kindly it is request to code the buffer of buy and sell signals in the EA and backtest kindly.
1. When Solor Wind Joy Indicator Line Color get green, the EA buy the lot as per choice and that buy trade ends when the green color converts into yellow line color.
2. When Solor Wind Joy Indicator Line Color gets Red, the EA sell the lot as per choice and that the sell trade ends when the Red color converts into yellow line color.
Again thanks for your time and consideration.
Lots of Regards,
Muhammad
Apr 14, 2021
Best entry and exit indicator, love it.