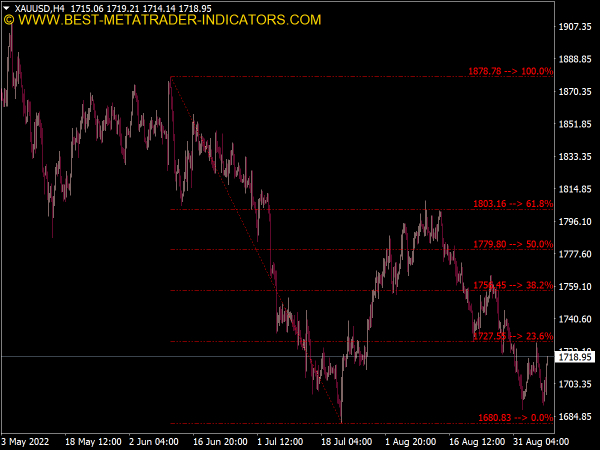 Best Trading Indicators for Beginners ⏩
Average rating:
6 reviews
Sep 7, 2022
ℹ️ How to properly Draw Fibonacci Retracement
Fibonacci retracement is one of the most used techniques in technical analysis. As Fibonacci retracement is simple and powerful, it becomes more popular amongst technical analysts and anyone who still try to find a technique to identify significant support and resistance in a market instrument. Unfortunately, many of new analysts or traders don't know how to deploy this technique properly, resulting in false identification of any support and resistance. Then the final result will be painful for his/her trading account.

As far as we know, the Fibonacci retracement, and also Fibonacci extension, actually has a very close relation with the so-called Elliott Wave Principle as Ralph Nelson Elliott himself was the one who recognized the relationship between Fibonacci numbers and price pattern which he believed the pattern is repetitive.

Therefore, it is advisable for you who want to be better in implementing Fibonacci retracement to firstly learn about Elliott Wave Principle. However, in this trading tip we are going to give you a simpler trick if you still don't know about wave. Hopefully, with this trick you will properly draw the Fibonacci retracement on any market you intend to analyze.

Drawing Fibonacci Retracement on Chart
The first thing to see on your chart is the latest price swing. The second step, you should determine the most significant points of the swing, just like when you want to draw a trend line. You have to be able to identify the beginning and the end of this price swing.



The same process should be done when a market performs a down swing. Even for day trading, we recommend you to draw daily and weekly, sometimes monthly, Fibonacci retracement on your chart so that you'll find significant support and resistance level using Fibonacci retracement. Keep on practicing using it.
Oct 21, 2021
Good indicator
Oct 11, 2019
I have been killing Gold with this indicator.
Good one to use. HAPPY!!!!!!
Mar 28, 2018
I like this, so simple and accurated.
thanks
Jul 27, 2015
review
This is the best Forex indicator,more than 90% profit.Try this.