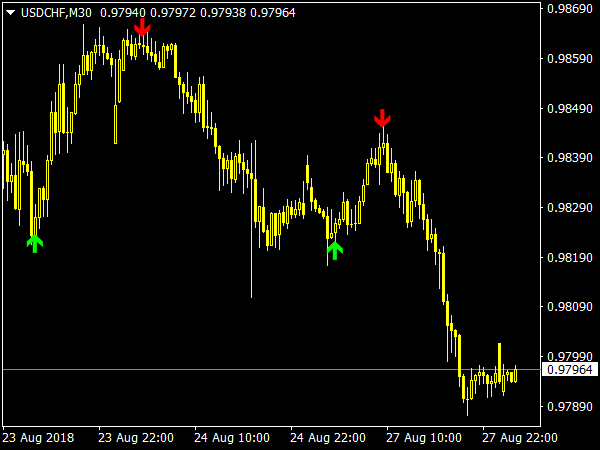 Best-MetaTrader-Indicators.com
Average rating:
11 reviews
Nov 12, 2019
I tried to download But/Sell arrows, it is a zip file and I cannot open it to install on my MT4 chart?
Oct 8, 2019
This indicator definitely repaints. Its useless.
Sep 30, 2019
This indicator is very awesome
Aug 14, 2019
With the high accuracy the indicator shows on my chart, I am wondering if it doesn't repaint. I am yet to use it. It looks wonderful any way.
Aug 14, 2019
The first time I saw this on my MT4 chart, it was like wow! The arrows were on spot, especially with Bollinger settings.
Jul 11, 2019
Yes it is reprint but
How to use , first show arrow positions in 4 hour chart and try to trade in 15 min if signal of arrow get in same direction.
May 15, 2019
It Repaints
This indicator repaints but can be used as confirmation with other indicators
Oct 9, 2018
follow-up of my review
Ok, here the truth base on my opinion after try. That indicator is good to spot good buy and sell, But sometimes it will place more than one arrow consecutively in the same direction, but they are a good trade and the arrows are definitively paint and repaint, NO DOUGH! When you trade you will all the arrow place by the trading indicator and when you are logging out your MT4 and re-log only the best arrow will remain, the good side is that the arrow that remains was there during the trading, but my 3 stars are because repainting the chart to make thing look better than it is to make more people download your indicator, not honest in my opinion. I don't like that!
Oct 9, 2018
Follow up of my first review
The result of that indicator is too much to true and some people as talking about repainting and they explain about it, I didn't realize about that, didn't know about repainting. Now, this said take my first review with a grain of salt.
Oct 7, 2018
Look great!!
I didn't use it yet, but I couldn't believe how precise the arrow is placed on the chart at 4h. the first time that I see an indicator that I would trust in auto trade and that been so constant on the result, yes there is some movement in a shorter term that could be traded, but in a longer trade it's spot all in the top or bottom of my chart, Wow! I am excited to try that. I am new with MT4 and I have a lot of trouble to set up the chart to be comfortable with and to reproduce my own personal indicators that I used in another chart. I want to know could we make this indicator run in auto trade?
Thanks for any advise
Dominique
Oct 4, 2018
Repaint or No ?
Hello... this indicator Repaint or No Repaint?? thanks !