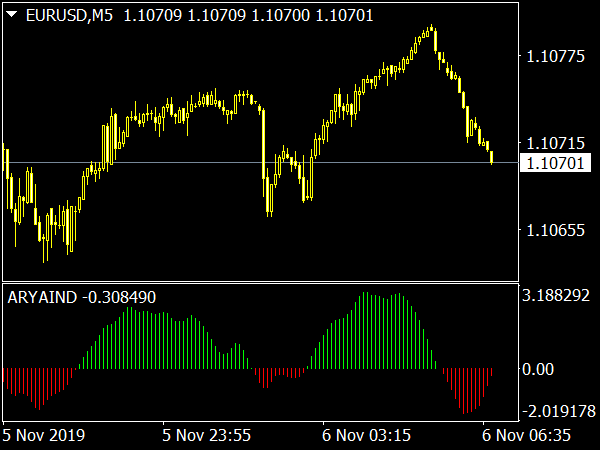 If this indicator is broken, please contact us and we will fix it in a flash.
Best-MetaTrader-Indicators.com
Average rating:
13 reviews
Jan 20, 2021
Repaint, if you dont know what that means it means backtesting it is a lie, when you trade it it will be bad.
Nov 5, 2020
Repainting Indicator
Aug 23, 2020
Repainting, stop misleading people you fool. It shows wrong entry point and modifies it later, after gap up it corrects itself saying that it told you you to come out of the position, but in reality the gap up happend when the oscillator was still in red, when it should have turned green previously itself.
Jul 23, 2020
Please do not use this indicator, it repaints its self meaning it will change its values in the past to have show near perfect enties or exits. I was back testing this and trying to store the values and record the values and every time it will give me something different. You can not edit or see whats the program made of either. but I did a paper trades on it recording the data on multple time frames and when I did I come back a few hours to recheck the data and then this indicator changed the values to make it seem as if it had those perfect entries or exits on its indicator box. so in my opinion please do not use this indicator it will waste your time.
Jun 6, 2020
Can someone help me understand whats happening under the hood of this indicator, math etc. How this indicator works and how to use it?
Jun 2, 2020
What was the original indicator, what is it based on. Do you have any other info about this indicator? I have been forward testing in combination with other indicators and seems ok just put off by repainting.
Jan 25, 2020
@Wolf. It recalculates as far back as the period that you set when you load it up... but just look at the current bar... Basically how I use it is on a daily chart... I overlay two of these indicators with different periods (20 & 15)... A solid green bar confirms bull trend... solid red bar for bear trend... a red and green bar tells me to exit... hope that helps.
Jan 21, 2020
I wonder if the recalculating goes very far back. When I use a range of 1 to -1 where no trade is done then I get Signals only for bigger movements. So my Question is how far back does it recalculate?
Jan 20, 2020
Yes it repaints, so backtesting is pointless... Trust me and do some forward testing on a demo account... If you load up this indicator with a period of 20 and then overlay another one with a period of 15 it works awesomely as an exit indicator / 2nd confirmation indicator on daily chart.
Dec 14, 2019
R E P A i N T ... useless
Nov 17, 2019
useless as it repaints!