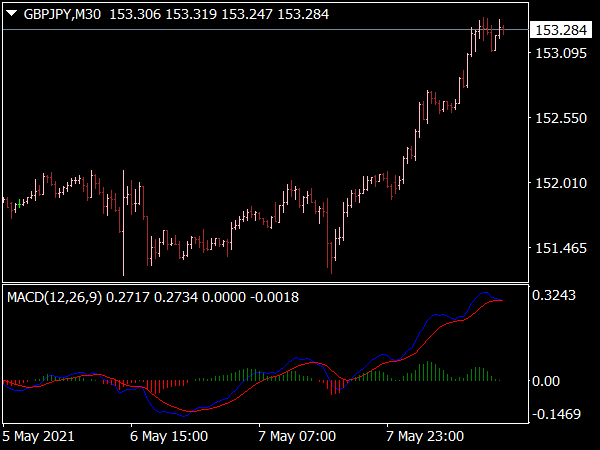 If this indicator is broken, please contact us and we will fix it in a flash.
Download
MACD 2 Lines Indicator
Best-MetaTrader-Indicators.com
Average rating:
1 reviews
May 10, 2021
The MACD, or the Moving Average Convergence Divergence, is probably the most popular technical indicator. Almost every trader has traded the MACD at the beginning of his trading career, and some even continue to use it later on. The MACD is in essence a trend-following indicator. It uses Exponential Moving Averages which are a traditional trend-following mechanisms. There are several trading methods to be used with the MACD indicator.

The simplest of all is the cross method. The basis of the cross method is the cross of the MACD signal line by the main, faster line.

Another trading method is the Divergence. The basis of this trading method is a diversion between price and MACD – that indicates that price and MACD does not correlate. Traders take trades hoping that price will reverse in the direction of the MACD.

The 3rd trading method with MACD is the Moving Average Bounce, also known as the Zero-Line-Reject. The basis of this method is the following: MACD value is reaching the value of zero, and suddenly reverse in direction. The technical idea behind the trade is that the 12-days EMA is bouncing off the 26-days EMA.

These three methods are the strongest trading methods to incorporate the MACD indicator – and they are useful not only in FOREX but any commodity. It is advisable to trade and experiment with these methods on demo account before risking your own money.